Alarm products and -technology
Verisure's alarm products are developed with PreSense™-technology, that helps reveal and prevent dangers of fire, burglary and water damage, at an early stage.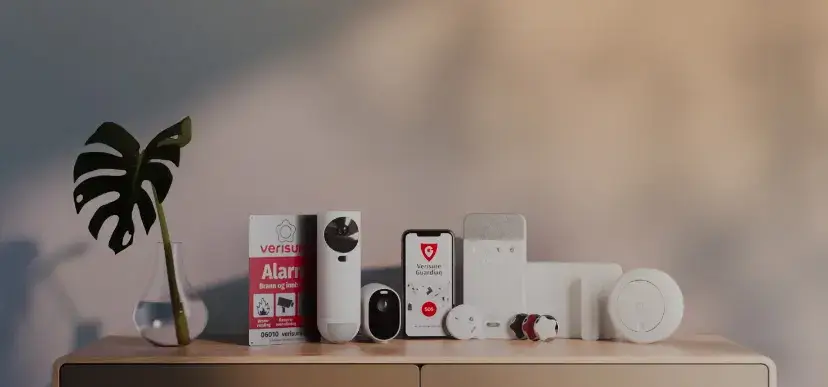 Every home or business has its own individual characteristics. Verisure Alarm Systems are therefore always tailored to suit to the needs of the premises.
Price awarded alarm system
Verisure's Alarm­ systems and Smart home solutions is continuously awarded new prices. Your safety, quality and great design are key factors when we develop new innovative security solutions, to give you a safer and more comfortable everyday life.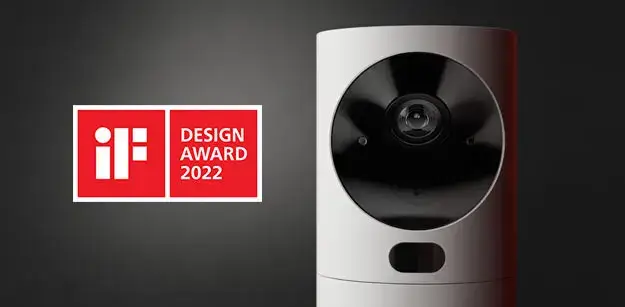 Proud winner of iF Design Award 2022
Verisure Home Alarm and Camera Detector won design-prices at iF DESIGN AWARD 2022. iF DESIGN AWARD routs all the way back to 1954, and is recognized as one of the world's most prestigious design competitions.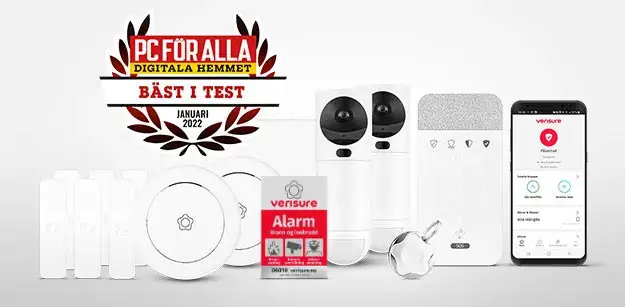 Verisure Home Alarm is Best in test
In January 2022, Verisure home alarm was voted best in test by the Swedish technology magazine, PC för alla. A total of eight Alarm systems were included in the test, and Verisure was declared winner with top marks!
Learn more about Verisure's products
The Key Safe is an easy and safe way for you to give the security guard access to your home or cottage when needed.

You also have keys available if you accidentally forget or lose your keys.

With the Key Safe, the guards can go directly to your home to check what has triggered the alarm.

Show more

Arlo Pro 4 surveillance camera

Arlo Pro 4 indoor/outdoor surveillance camera provides extra security for your home and family.

The camera is completely wireless, video recordings are activated by suspicious movements, and you are alerted in real-time with video recordings of the incident.

Smart alerts on your mobile notifies you if people, animals, cars or packages are registered.

Show more

With Arlo Video Doorbell and app, you can see who rings your bell and talk to your visitors, wherever you are.

Arlo Video Doorbell gives you full control of what is happening at your front door, and for extra security the camera is connected to Verisure for quick help 24/7.

When someone rings your doorbell, a videocall is instantly connected to your smartphone.

Show more

Deterrent alarm stickers that are placed on doors and windows are an important part of burglar prevention.

All Verisure customers receive our Deterrent Signs. Deterrent Signs are ideal to keep criminals away. Alarm Signs and Stickers warn burglars about images being recorded and this has a significant impact on intruders who are afraid of being identified by the police.

Verisure Deterrent Signs are distributed in several sizes so they can be used in different locations around the home/business: on doors, windows or external areas. Verisure Alarm Stickers and Signs warn burglars of the risk they are taking if they try to rob your home or business.

Show more

Door- and window shock sensors magnets trigger the alarm before the thieves get in.

Verisure's doors and windows are equipped with a sensitive Shock Sensor Technology to protect all access points to your house or business, whether you are at home or not. This technology is very easy to use and understand; the device is simply placed on door and window frames so when someone tries to break in, our Shock-Sensor System will automatically trigger the alarm.

Our detectors have an advanced filter that can distinguish the movement caused by intruders from environmental factors. With our highly sensitive sensors we can detect the burglar before he even enters the house or business.

Show more

Stops the burglary within seconds and protects your values.

The smoke canon will not be triggered automatically when the alarm goes off. It will only be triggered manually, by the Alarm monitoring station, after an image/video/audio verification that there are intruders in your home or business. After being triggered, the smoke canon will leave an entire room covered in thick white smoke within 60 seconds, making it impossible for the thieves to see your values. The smoke is completely harmless to people, animals, electronics and furniture. But as all other pyrotechnic, it will leave a smell unless you ventilate properly and dry off your surfaces afterwards.

Show more

Verisure Smoke Detectors are connected in series and provide simultaneous warnings and signals so that everyone in your home knows that smoke has been detected.

The detectors are interconnected and provide simultaneous warnings with voice messages and signals so that everyone in your home soon knows where smoke has been detected. When the alarm goes off, the monitoring station is alerted, and you get a message on your mobile.

The smoke detector also measures room temperature and relative air humidity.

Show more

With the climate sensor you have control of the temperature and humidity in the room.

The indoor climate affects the well-being of family members.

Too high relative humidity can cause moisture problems, mold and mites, while low humidity can cause dry eyes and dry skin, or allergies. With the Climate Sensor you have control over the temperature and humidity.

Show more

With a water detector, you get early warning of a leak, allowing you to take action quickly and save yourself a lot of time and effort.

Leakages can occur from dishwasher, joints on pipes, refrigerators, washing machines, water heaters and in basements. Our Alarm Receiving Centre monitors the detector around the clock and calls you as soon as the alarm goes off. You will also be notified on your mobile via the Verisure App.

Show more

With Verisure Heat Pump Manager in your Panasonic heat pump you can remotely control your heat pump.

The Verisure app acts as a remote control for the heat pump, so you can regulate the temperature from wherever you are.

With a heat pump you get cheaper heating in the winter, good cooling in the summer and a clean and healthy indoor environment year-round. Up to 99% of all bacteria, pollen and mold in the air, are cleaned with heat pump. Families afflicted with asthma, allergies and other respiratory problems can have increased quality of life when using a heat pump.

Show more

The Main component is the heart and brain of your system.

It functions as the hub of all communication within the system and with the monitoring station. The main component is connected through both 2G, 3G og 4G, broadband and WiFi, which ensures that the system remains connected to the alarm monitoring station even if the internet connection should fail or the mobile coverage fails temporarily.

Show more

The smart home unit connects Verisure's smart products, like the Yale Doorman smart lock to the Verisure app.

The smart home unit connects Verisure's products, such as the Door Lock with the Verisures App. The unit can be used without having an alarm system installed.

Show more

The siren produces a 105 decibel loud alarm noice when the alarm is triggered.

The Verisure High-Power Alarm Siren is a key feature of our Alarm System and a powerful deterrent. The siren works independently from the Alarm Control Panel making it more difficult for burglars to disable.The Alarm's High Power Siren not only scares the burglars, but also alerts your neighbours.

Show more

Direct two-way audio communication between your home/business and the alarm monitoring station.

When the alarm is triggered, Verisure Voice is activated, and the monitoring station can listen in and talk to the people present. This helps the operator resolve the cause of the alarm, and rapidly act accordingly.

Verisure Voice is used by the monitoring station to collect valuable information to emergency units; such as what has happened and where they can find people within the premises. It can also be used to help you find the safest way out. In case of a burglary situation the unit is used to scare off intruders by telling them that the police is on their way.

In the everyday life, Verisure Voice is useful to quickly abort false alarms, without having to contact the home- or business owner.

Show more

With the Smart Plug you can control lighting and almost all electrical appliances plugged into the socket via the Verisure App.

Turn on and off with your mobile. Program the lighting so that it looks as if someone is home when you are not. Automate or schedule the lights and heat to go on and off when you arm or disarm your alarm system.

Show more

Key pad, SOS-alarm, two-way-communication and siren in one.

Verisure Portal touch screen is a key pad, SOS-alarm, two-way-communication and siren, all in one. It is permanently linked via 3G to our Alarm Monitoring Station and is fully portable within your home or business premises. Our team is available 24 hours a day, 365 days a year. Simply press the SOS/Panic Button on your Portal and we will be there to help.

Show more

With the key pad you can arm and disarm the alarm, using a personal code, remote control or Starkey.

The key pad allows you to connect and disconnect your alarm without having to memorize a security code, offering you the easiest and most convenient way to use and control your Security System.

On the key pad you also see fire alerts, or if your system needs maintenance.

The panel has a built in SOS-alarm and two-ways audio for easy alerts and simple communication with the Monitoring station in case of an emergency.

Show more

Easy-to-use remote-control unit, used to arm/disarm the system remotely. Also includes an SOS function.

With the GuardPass remote control in your pocket, the alarm will automatically be deactivated when you pass the GuardPass alarm panel. You also have an SOS-alarm at hand when you need it.

Show more

NFC-keys, simplifies the daily use of the alarm for the entire family.

Simply click the outside-of-house-button and hold the Star key up against the Key pad to arm the alarm. To disarm the alarm, you strike the Star key against the star on the on the Key pad.

Each NFC-key has a unique identity. This allows you to check who enters and leaves your home and you can easily block a lost key or register a new one.

The NFC-keys are available in six colors: white, black, red, blue, pink and turquoise.

Show more

The Night safety panel enables you to activate or deactivate your alarm while you are at home. Contains SOS function.

You can activate the alarm's SOS function, and also arm and disarm the alarm's partial protection. With the door bell function, you are notified if someone opens a door or a window with a shock sensor magnet.

Show more

By pressing the SOS Panic buttons, you can request emergency services immediately via the Verisure Alarm Receiving Centre.

If you push the SOS panic buttons, you will receive immediate assistance from Verisure Alarm Receiving Centre. The Panic Alarm Button is very useful in case of emergency or when there is a safety risk in your home or business premises. Whenever you press the SOS button, our staff will directly activate the silent listening mode and will receive images from the security cameras to check on the situation and, if necessary, call the Guard Response.

Show more

Arlo Essential Spotlight surveillance camera

Arlo Essential Spotlight gives you an overview of what is happening in and around your home.

Arlo Essential is an easy-to-use and affordable surveillance camera. The camera gives you a good overview of what is happening in and around your home, and is connected to Verisure for quick help 24/7.

When the camera detects movement, you receive a mobile alert with video recording of the event

Show more

With Arlo Essential Indoor you get continuous video recording of your business, directly on your mobile.

Reduce the risk of theft, robbery and vandalism, and keep your employees safe with surveillance camera and alarm.

Visible cameras and deterrent signs secure your assets and give your employees a safer working environment. You can keep an eye on the company with your mobile, and get video evidence in full HD.

Show more

Powerful Camera Detector that records images in HDR quality to clarify the cause of the alarm

The PIR Sensor is a powerful Camera Detector with an integrated flash, so it can take photographs even in total darkness. When the alarm is triggered either by a motion sensor or by a smoke detector, the Camera detector automatically sends an image sequence to our Alarm Monitoring Center. Our team then analyses the images and contacts Guard Response and Emergancy units if needed.

The images are recorded and kept in Verisure's Data Processing Centre. They will only be released upon request from either the customer or Guard Response.

Show more